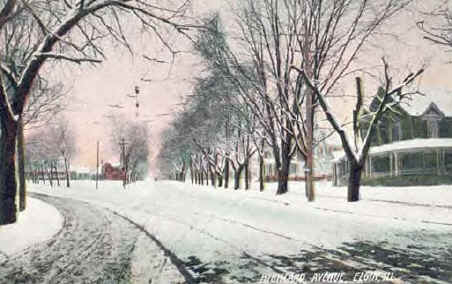 Highland Avenue in the Snow
While there are no leaves on the trees or the trolley isn't going by, a photographer visited the same fork in the road six months before (or six months after) the previous card. I don't normally pay much attention to postcards like this, but as I had stated on the previous card, this intersection holds a special place in my heart.
It is useful to remember that the image on a postcard was secondary to its actual use. Since the mail was delivered twice a day, it was possible to write a note on a card, put a 2-cent stamp on it, and have someone across town receive it the same day. In today's world, where everyone has cell phones, that may be a difficult concept to grasp. However, at the turn of the previous century, phone calls were expensive (if you ever had a phone) and there wasn't the urgency there seems to be in today's world. While we think of that as progress, there are plenty who would dispute that claim!