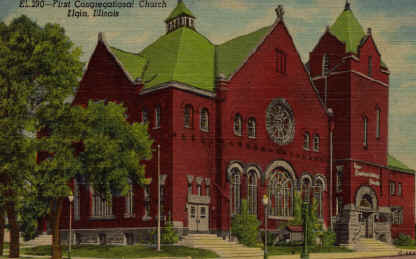 First Congregational Church
The founders of Elgin, James and Hezekiah Gifford, were such pious men that they observed the Sabbath even when they were in the wagon train that brought them from central New York to Elgin. Nicknamed The City of Churches, Elgin can tout over 100 churches within its city limits. This stems from James Gifford's offer of free land to any organization that promised to build a church.
When Elgin was less that a year old, meetings were convened to discuss the creation of a church. The early settlers were equally divided between a Congregational and a Presbyterian Church. Eventually, the Congregational denomination would be chosen.
The original church was Hezekiah Giffordís log cabin, because Jamesí cabin was still being built. They would meet there for two years until a 25 by 30 foot frame building could be built on the northeast corner of DuPage and Geneva streets.
By 1843, the Congregationalists were ready for a larger place. The present location was sold to The Baptists and a larger, more impressive church was built. Meetings began there in May of 1844. A bell was placed in the bell tower in 1852. Over the next 16 years, parishioners would leave the congregation to form offshoots of the church in Dundee and Udina, Illinois. By 1857, the Elgin church had the proud distinction of having the largest congregation of any church west of Oberlin.