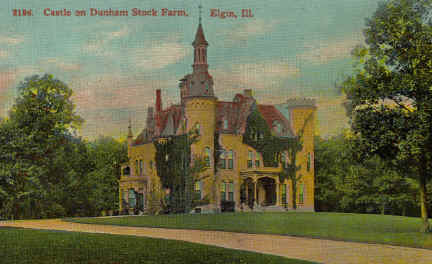 Castle on Dunham's Stock Farm
While not actually in Elgin, Dunham's Castle was built between 1878 and 1882 in the Norman Gothic style of architecture. This castle is the result of the success of a horse breeding farm. Mark Dunham and his uncle established this Fletcher Norman Horse Company, which bred Perheron and French Coach horses. Prior to the invention of the motorized plows or other heavy farm machinery, those horses were deemed perfect for farm work.
When his business prospered, he commissioned the building of a 12,000 square foot home from the plans of a castle that resided in the Normandy section of France. The castle was named , "one of the finest farm residences in the State of Illinois", in an 1888 history of Kane County. The farm housed as many as 800 animals at any given time.
Ed Note: This card is a classic example of the fact that you can't always rely on something just because it is in print. While this card maintains that Dunham's Castle is in Elgin, it is actually in a neighboring suburb. As previously stated, the actual intention for postcards back then was to communicate with family and friends inexpensively before the invention (and proliferation) of the telephone. People were not so concerned with historical accuracy as they were of a way to telling each other the most recent news.