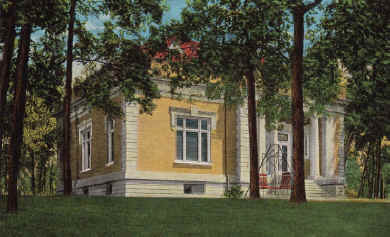 Lord's Park Audubon Museum
Realizing the significant contribution that Marshall Fieldís Natural History Museum had on Chicago, George and Mary Lord decided to create a Natural History Museum in Elgin. They devoted the northern portion of Lordís Park for that purpose. While construction would begin in 1905, their building would not be anything more than a storage shed or a dog pound until 1920. After George Lord died in 1907, interest waned. However, by 1920, The Audubon Society took it over and maintained operation there until 1961.
After the Audubon Society disbanded, the city took over its operation and has maintained it ever since. Today, it is the only natural history museum in the area and one of five natural history museums in the State of Illinois. Among other attractions, The Elgin Public Museum includes a discovery room allowing "hands-on" learning experiences. Year-round activities for children in a beautiful 120-acre park. You can learn more about the museum by clicking here.