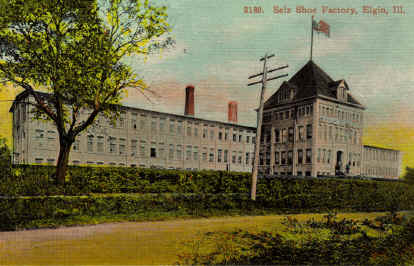 Selz Shoe Factory
Originally a Chicago firm, George Ludlow moved his shoe factory to Elgin through an offer from the Elgin Improvement Company. The offer was for a building and the land that it sat on. Ludlow was promised 20 percent interest in the building and property for every consecutive year that he employed 350 workers.
Employment would reach 370 by 1891. Employees worked a 10 hour day, six days a week. By 1896, the plant began making women's shoes under contract for Selz-Schwab & Company of Chicago. By the 1920ís, the plant would produce 2,000 pairs of women's shoes daily.
While shoes are no longer produced in this building, it still stands today. The Selz-Schwab Shoe Factory closed in 1929, but the building would later become the home of a manufacturer of women's' dresses, a neon sign factory, an indoor miniature golf course and finally one of the headquarters for the State of Illinois highway sign shops. Six painters created the route signs for the primary roads in eight Illinois counties. Today, The Shoe Factory is a series of condominiums.