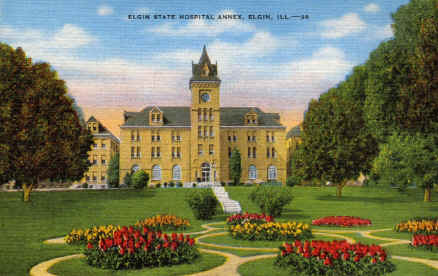 Elgin State Hospital Annex
The original name of the Elgin Mental Health Facility (its current name) was The Northern Illinois Hospital and Asylum for the Insane. The door opened in 1872, however, construction of additional buildings continued until 1874.
A rumor circulated for year, and still exists that the State of Illinois approached the City of Elgin with plans to construct a mental institution and a college and offered Elgin one or the other. As the rumor goes, Elgin took the mental institution, De Kalb took Northern Illinois University. As Elgin Historian and celebrated Elgin History author, Bill Briska points out the rumor, "...is totally false" He goes on to state that, "The state hospital was founded in 1869 and the college in 1892. (there are ) No connection between the events".
The man-made lake in the foreground of this photo was added in 1886. It was 400 by 500 feet in area and was designed to create a tranquil atmosphere for the patients and employees.
The building shown above was build in 1891 and was designed to increase the hospital's capacity by some 300 patients. Within a short time, it would become the home of over 1,000 additional patients. It was closed in 1960 and razed in 1972.