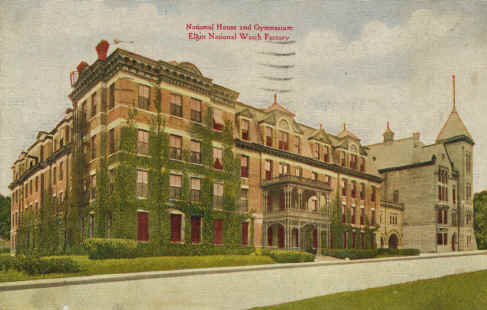 National House
With such a huge work force, finding suitable housing was a concern. Construction began in the spring of 1867 on The National House, which was across the street from the watch factory. Originally, National House was a three story building with an attic and a French roof and dormer windows. The cost of construction was ten thousand dollars and was established to provide living quarters for single employees. A few suites were available for families.
Over the years, National House would expand to include a fourth floor with 150 rooms. By 1883, the newly expanded dining room had the ability to serve 500 guests at one time. To help provide fully rounded employees and citizens of Elgin, The National House included a billiards room, a smoking room for gentlemen and a library. Meals were also served to non-borders at prices below the carriage trade.
The next card shows the Watch Factory and National House. It is easy to see how close they both were to each other.