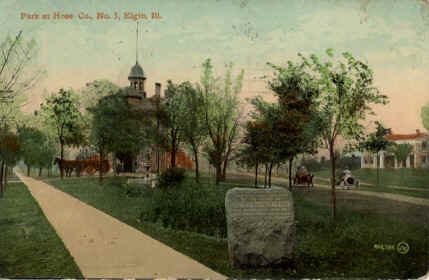 Park at Hose Co. No 5
The last station built as a fire barn in Elgin was Fire Station Number 5. It was on the triangular corners of St. Charles and Arlington streets. Built in January of 1904, it included lead-lined windowpanes and a trap door that was used to drop hay to the horses from the third floor.
Fire Barn 5 still stands at 533 St. Charles Road. It has been recognized by The National Register of Historic Places. It serves as a fire safety museum and It regularly welcomes visitors who are treated to their collection of vintage fire trucks and fire fighting equipment. More information is available about Fire Barn Number 5 at their web site.