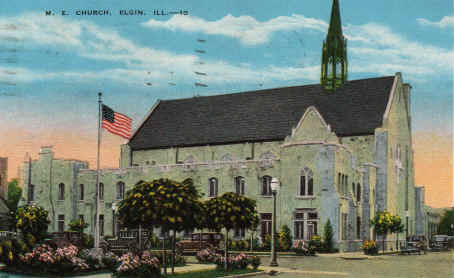 (First) Methodist Church
While there are many churches in Elgin, The First Methodist Church was the first building in Elgin that was built exclusively to be a church. Constructed in 1838, it was built for $3 in cash and $147 in sundries*. The cost of the exterior of the present church was $400,000. Most of the money was donated by religious book publisher David C. Cook. The church has over 100 rooms and conforms to the latest ecclesiastical line.
Dr. Carleton Rogers was the pastor for over 30 years. During that time, he was an extensive traveler extending the word of the Gospel to many far off lands. He also authored several books, including "I Remember, I Remember", a collection of this experiences and anecdotes of his career. Carlton Rogers Park, one block away, is named in his honor.
* I came upon this page several years after I created it and scratched my head about that "$3 in cash and $147 in sundry" line, so I looked it up. That figure is correct according to a book called "Modern Elgin", which is available at The Gail Borden Library.
Ed Note: I had the good fortune of having Dr. Rogers' granddaughter, Tiffany Schlueter, in one of my classes. She is both a bright young scholar and a charming young lady. I wish her the best of luck in her every endeavor, JPM.