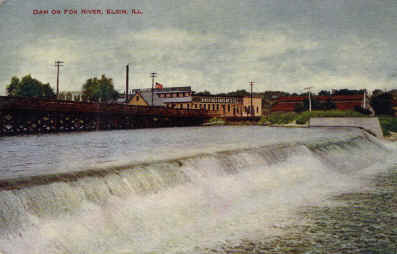 The Fox River
After James Gifford settled on The Fox River Valley, he wrote to his parents, "I have on my claim the best place for water power which I have found on the river...the Fox River is the finest stream I ever saw..."
The Fox River is a tributary of the Mississippi River by way of the Illinois River. Originally called Pishtaka by the Indians and River Des Renalds by the French Trappers, The Fox River was vital to early Elgin Settlers. It powered early mills, received the city's waste and provided leisure activities, such as boating and fishing.
Sometime around 1836 or 1837, the first dam was constructed by Folsom Bean and was paid for by James Gifford and Samuel Kimball. Shortly after it was built, Gifford built a grist mill on the east side of the river and Kimball built a saw mill on the west side of the river. In 1867, the state legislature chartered the Elgin Hydraulic Company to maintain the dam, but even before that, the dam would provide the city with a great deal of business opportunities. Near the dam was the site of two large flour mills and a woolen mill.