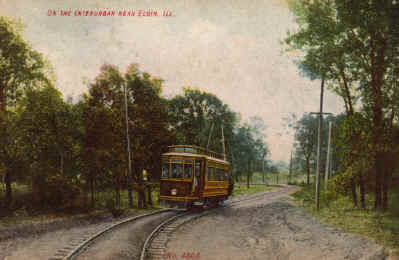 On The Interurban Near Elgin
Big cities need efficient ways to move people. By 1901, Elgin was a prosperous city. To that end, the Aurora, Elgin and Chicago Railway Company was commissioned to build a third-rail line to commute passengers between these three cities. Other stops, such as Wheaton, and Wayne would be added later.
By 1909, cars would be added to the line. These cars would help give it its nick name of the "Roaring Elgin" with their abilities to travel at speeds of up to 80 miles per hour. Some would be quire opulent, having stain glass windows and mahogany trim. Once such interurban car is being refinished by The Rockhill Trolley Museum. Photos are available on their site.