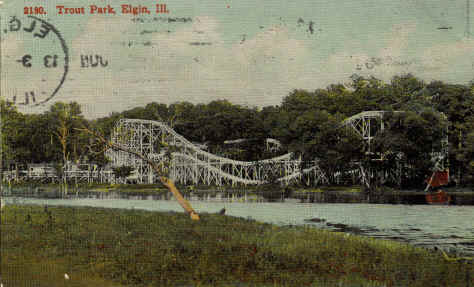 Trout Park, The Amusement Park
Trout Park certainly has roots planted in America's distant past. However, the Elginites of the late 19th and early 20th century had plans of their own for this lovely old park during their time. The park was home for Elgin's first professional baseball team, The Kittens, named after their manager, Malachi Kittredge. A stadium was erected for the Kittens' home games that would seat 3500 spectators.
On May 29, 1909, an amusement park opened at Trout Park. The highlight of attractions was the Circle Dip Roller Coaster, which was the first one of its kind. The popularity of the park waned by the end of the season, and the owners were left with a pile of bills and a bevy of judgments against them. However, while the park was operational, it treated its public to such delights as The Carousel, the Ocean Wave and the Circle Swing.