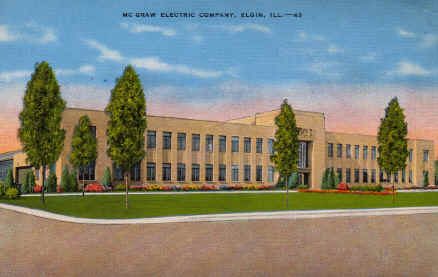 McGraw Electric Company
The history of McGraw Electric goes back to 1900, when Max McGraw opened a company in Sioux City, Iowa. their main product was wiring houses for electric doorbells. Under the leadership of the company's president Max McGraw, the company would acquire several different names, Including The Joseph R. Lehmer Company, and The Waters Genter Company, who invented the pop-up toaster.
In 1938, McGraw built a plant was built just south of the Elgin city limits for manufacture Toastmaster Toasters. The plant was over 100,000 square feet and would cost $250,000 to build.
Max McGraw was interested in conservation and built a preserve and a trout hatchery. Throughout the day, tests would be run on various toasters and over 10,000 piece of bread would be toasted. Once the tests were done, they would be fed to the fish.