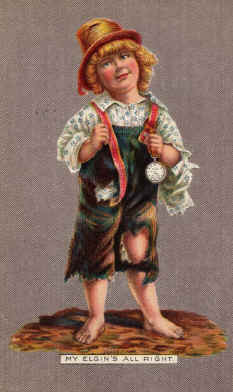 My Elgin's All Right!
Throughout its life, The Elgin National Watch Factory used various advertising methods to promote their business. One such method was the creation of The Elgin National Watch Factory Band. From 1887 to 1892 over 30 watch factory employees would work in the factory but would receive their regular salary when the band was on tour. It made a brief reappearance in 1911, featuring musicians who did not work for the company.
Dating back as far as 1889, A long running favorite logo-type was "The Elgin Boy". He appeared on "trade cards", as well as on an 18 inch plywood board which served as a display in jewelry stores that carried Elgin watches. The boy looks as though he has been involved in a typical "young boy's melee", indicating that Elgin watches were build ruggedly enough for even the toughest abuse. Some speculate that the use of "The Elgin Boy" was to promote a 14-sized (roughly 1 1/2") "boy's watch". The displays for the stores were created by The Meyercord Company, a Chicago company, using a process called "de calcomania transfers."