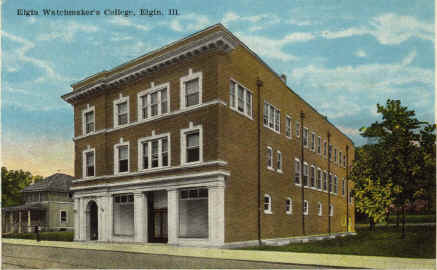 Elgin Watchmaker's College
In an effort to increase their skilled labor pool, The Elgin National Watch Factory opened the Elgin Watchmakers College in 1920. The college was run as a separate entity, but enjoyed all of the technical facilities of the factory. During its 40 year history, the college would train more that 5,000 students. Before jewelers could practice their trade they were required to pass The Horological Institute examinations. More of the Elgin Watchmaker alumni passed the exam than did the graduates from any other school.
By the mid 1950's, the "throw away" watch became increasing popular. Due to that and to other paradigm shifts, the school's enrollment waned. While the school was set up to administer to 175 students at a time, enrollment had dropped to under 50. The school closed their doors in 1960 and the building was torn down in September of 1992.