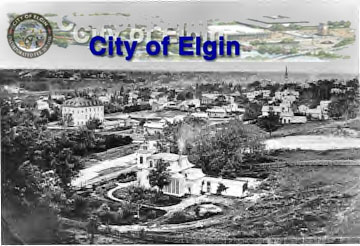 Other Elgins
It has been reported that Elgin, Illinois has more residents than all of the other "Elgins" combined. However, it certainly isn't the only one. About a dozen other cities and villages across the U.S. are also named Elgin.
It has been speculated that the popularity of the name Elgin could be a direct offshoot of the watch company's advertising slogan. For years, The Elgin National Watch Company boasted their product as being: "Known the World Over". It could also be theorized that it is due to the familiarity of the railroad employees, who all used Elgin watches to assure accurate timetables,
As I find other postcards of "Other Elgins", I will add them.