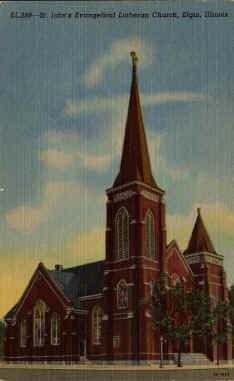 St. John Evangelical Lutheran Church
Under the direction of Rev. H. Wunder and J. A. Mueller, St. John Evangelical Lutheran Church began services on July 4, 1859. Within six months, a small frame church was purchased for $550 at the corner of Spring and Division Streets.
Martin Luther, himself, would have been proud of the congregation. During the churchís first 8 years, factions of the flock struggled to change the name to "St. Johnís United Evangelical Church" or "St. Johnís Protestant Church". However, under the leadership of Prof. W. Buehler, calm would be restored by 1867.
By 1910, the church outgrew its humble roots and began to look for more suitable surroundings. The photo shown above represents the church upon its completion on May 12, 1912. The church featured a Weickhart pipe organ, with pipes ranging from the size of a thimble to the largest being four feet across and twenty feet high.
The church was remodeled in 1931 and again in 1949. It included seating for 1,000, but frequently that had to be augmented with folding chairs.