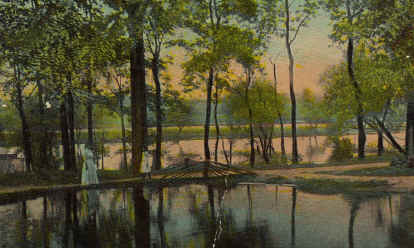 Trout Park
In 1969, Hazel Belle Perry wrote about Trout Park in her newspaper article, "Old Elgin Tales". She wrote, "Usually, our Old Elgin Tales go back no farther than 134 years, but today's Elgin Tale takes us back thousands of years to the Glacial Period". Trout Park truly has its history during the period when the earth had gone cold and glaciers pushed down from the north and covered much of the earth with ice. As these glaciers slid south, they carried with them soil, vegetation and plants not necessarily indigenous to the area. It is theorized that white cedar trees occupied much of Northern Illinois, but were crowded out by trees more indigenous to the climate. However, since Trout Park has so many cold springs, the white cedar trees found a home here.
While Trout Park became legendary for its unique and valuable vegetation, it also served as a sanctuary for birds and wildlife. Many of the birds and animals that found their homes in Trout Park were quickly becoming extinct in other portions of Northern Illinois.
In 1922, the city of Elgin took over Trout Park by an order from Mayor Arwin Price. The land was purchased from the estate of William P. Carpenter for $4,500. The original deal was for 18 acres. Two years later, Elgin would add another 35 acres from W. H. Crichton for $10,000.
Over the years, various conservation groups, including the Elgin Wild Flower Society, the Elgin Conservation Council, and The Audubon Society would use this area as a place for study and exploration.