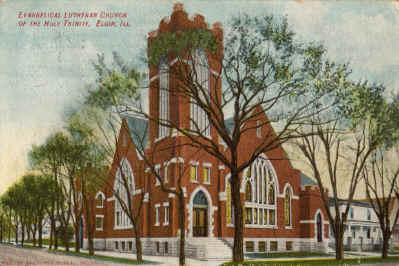 Evangelical Lutheran Church
of the Holy Trinity
The Elgin National Watch Factory was the inspiration for many people coming to Elgin, but who would have supposed that it would also be the inspiration for a Lutheran Church? When Ada Beck (Lindoefer) moved from Gosen, Indiana to take a job at The Watch Factory, she found no Lutheran Churches that celebrated the services in English. She immediately went to work to correct this situation.
In October of 1902, a meeting was planned in Unity Hall between Miss Beck and other perspective members. By June of 1903, Rev. Paul W. Roth, who recently graduated from The Chicago Lutheran Seminary was appointed the first pastor. He began officiating over his congregation of 41.
The land in the picture above was purchased in may of 1904 for $4,200. The Cornerstone was laid in June of 1906 and the church was completed in 1907.
Webmaster's Note: After I bought this card and did the research, I though it would be nice to drive past the church, but had no idea where it was. One of Elgin's nicknames is "the city of churches" for good reason. When I finally found it, I was shocked to realize that it was exactly one block from where I work. In fact, when I took my students on a field trip to The Elgin Academy, we cut through their parking lot. It just goes to show, the whole world is in front of us, all we have to do is open our eyes. JPM.