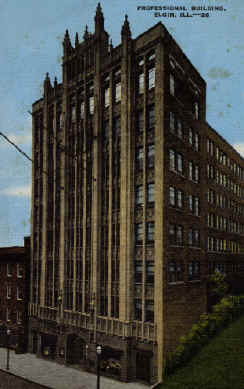 The Professional Building
In 1926, Dr. A. E. McCormack and the Ackman Brothers were touted as being "a group of farsighted business and professional men,..." for their decision to build The Professional Building. The plan was to place retail stores on the first floor and reserve the balance of the 38,000 square feet for professional offices and civic organizations.
Originally, the plans for the eight story Professional Building included 3 additional floors. However, lack of tenant interest forced them to abandon that part of the plan. "The tower wasn't big enough for their club, " said William Stickling, one time owner of The Professional Building. He went on to say, "for a Roaring Prohibition club, they needed a big place to throw parties and enormous bathtubs".