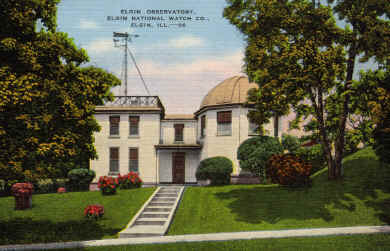 The Elgin National Watch Company Observatory
In an effort to create the most accurate watch possible, The Elgin National Watch Company built an observatory in 1910, so that it could time their watches to the stars. The observatory still stands on the northeast corner of Raymond and Watch streets. The observatory housed a telescope that pointed exactly north and south and all observations were made on the meridian. The process of comparing the time on fixed stars required patience and skill. While viewing distant stars, the operator would note their movements with a hair line in the telescope. He would record it by pressing a button which recorded a chronograph. A separate instrument, which tested the operator, corrected for human error. As many as ten stars a night would be observed. Every room in the factory that regulated watches had a sounding device that indicated the seconds, which was wired to the observatory.
In 1959, the observatory was turned over to School District U-46. In 1964, a planetarium was added. It now features special lighting, a concealed sound system and 65 reclining seats. To learn more about the Elgin National Watch Company Planetarium, visit their web site.