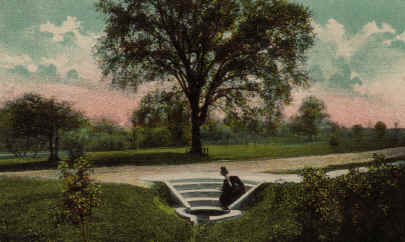 Sulphur Springs, Wing Park
The Wing Family name dates back in the annuls of Elgin history to 1846. Washington and Adeline Wing purchased farmland in the northwest corner of the city. Their oldest son, William attended The University of Michigan Law School and returned to Elgin to start a thriving law office. William's wife, Abby would become one of the city's most respected high school and college teachers.
In 1899, a new school opened and was named "Wing School", in honor of the late Abby Wing. William Wing died in 1902 and donated over 100 acres of land called Sulphur Springs to the city for development as a park. See "Pavilion, Wing Park" to learn the outcome of the development of his land.