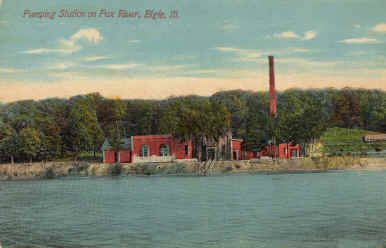 Pumping Station
While it was obviously The Fox River that brought the early founders to Elgin, a plan had to be reached to pump the water out and make it useable. On the 50th anniversary of the city's water department, they celebrated by dedicating The Slade Avenue Pumping Station. This Public Works Administration project took 4 years to complete.
In a 1933 water department history, it was stated: "Elgin possess one of the most efficient water pumpage and distribution systems in the state...And average of about 3,000,000 gallons a day are pumped, but the equipment is geared to produce 10,000,000 or more gallons should occasion require".
The building was torn down in 1993.