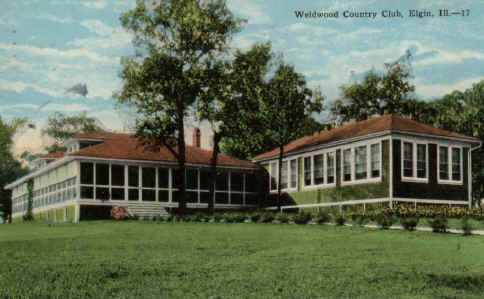 Weldwood Country Club
A group of over 100 golf enthusiasts met to discuss the creation of an elite golf club in March of 1901. Originally named The Elgin Country Club, The Weldwood Country Club would occupy 80 acres of land that was once farm land owned by Owen Weld. Since the club was only known as "Weldwood Country Club" from 1919 to 1927, it is easy to assume that this card was printed between those years.
In addition to discussing a suitable location, the idea of finances came up at that meeting. It was determined that if 100 members each paid $25 it would cover all expenses for the entire first year. Lifetime memberships were available for $200. The first golfers were able to take to the course on April 26, 1901. The club had its formal opening on June 15 of that same year.
The Elgin Country Club is still in business today on Weld Road on the west end of Elgin. Information can be obtained about The Elgin Country Club on their web site.