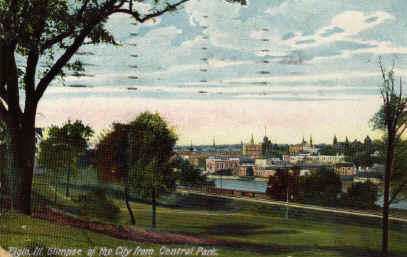 Glimpse of the City From Central Park
George P. Lord was certainly generous to Elgin by his donation of Lordís Park. However, his generosity didnít stop there. After his failed attempt at creating an old people's home on the southwest side of town, he donated seven acres of land to the City of Elgin. It was on this site that the city decided to create Central Park.. The land was prime, because it gave visitors an unobstructed view of the river and the East Side of the city. The area was equally desirable because streetcars ran along the park on State Street, making it accessible from all parts of the town.
In addition to being one of Elginís leading philanthropists, George Lordís accomplishments include being a prominent Elgin business man, a business manager of the Watch Company, an owner of a dairy farm, a mayor of Elgin, a president of the board of education and the President of The First National Bank
The land near Central Park is known for the three high rises that reside there. The Oak Ridge, which later changed its name to the Knollwood opened in 1968. The Central Park Tower and the Westwind Tower, which both cater to senior citizens were also opened near Central park in the early 1970ís.