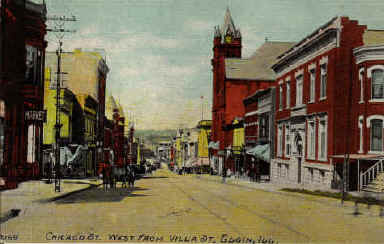 Chicago Street
West from Villa Street
Many of the streets in Elgin were named after prominent business people. Chicago Street, like St. Charles, and Dundee Streets, were named because they travel in the direction of those places. A fork off of Route 20 (Lake Street) was named Villa Street. When it turned West to cross the Fox River it became Chicago Street. Approximately two blocks later it formed one leg of a triangle with Grove Avenue and Douglas Street to form Fountain Square, the center of Elgin.
After the bridge was built, Chicago Street continued West and as Route 20 proceeded to connect Elgin with Rockford, Freeport, finally leaving the state in the North-West corner at Dubuque, Iowa. Chicago Street was Main Street in Elgin, separating the "North End" from the "South End" of town. The City Hall was built at the corner of Chicago Street and Spring Street.
- Thanks to Dennis Robinson for providing much of this background