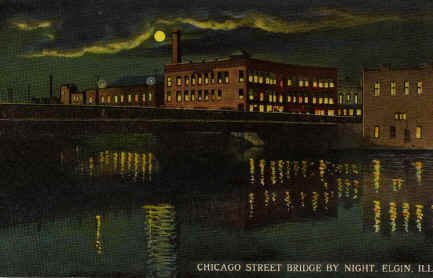 Chicago Bridge at Night
The seal for the city of Elgin bears the words Urbs Fluminis, which means, "The city by the river". While the river has been a source of sustenance and employment for much of Elgin's population, being "the city by the river" has not been without its shortcomings.
Over the years, several different bridges spanned over The Fox River at Chicago Street. The original wooden bridge was replaced by a makeshift iron one in 1866. This second bridge would collapse twice; once when it was crossed by a large herd of cattle and again on July 4, 1896 under the weight of spectators gathered to witness a tub race. A third bridge was constructed in the 1930ís as one of the Works Progress Administration Projects.