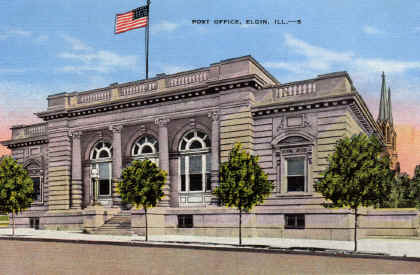 Post Office
Like many things in Elgin, the original post office was James Gifford's cabin. Prior to that, mail for Elginites was addressed simply as, "on The Fox River". The mail would be held at the Chicago post office until someone who knew the recipients would travel into Chicago and pay the postage due. In these early days of the postal service, it was the receiver, not the sender, who paid postage, and the rate would be levied based on the distance that the letter had to travel.
By 1884, the post office was ready for a home of its own. It was moved to first floor of the Hunter and Hawkins building, and W. F. Hunter was the postmaster. It was in October of that year that Elgin began delivering mail to homes and businesses. While there was only one letter carrier for the entire city, substitutes and part-time helpers were frequently called on. By 1902, the post office employed seventeen letter carriers.
When the post office moved to the location shown above on Spring street in 1902, it seemed as though most everyone in the town pitched in and carried boxes and other postal equipment into the new building. Soon, even its new location would not be big enough, and an addition would have to be added.