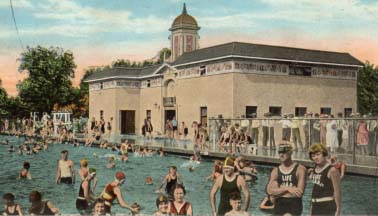 Swimming Pool (Wing Park)
The origin of a swimming pool in Wing Park dates back to 1914, when James R. Scanlan bequeathed over $9,000 of his estate for the construction of a public bath house. Before Scanlan's passing, he was employed as a gas fitter and eventually became the chief of service for a local gas company. He stipulated that "If at any time the city of Elgin is willing to take over the bath house and maintain and support it for the benefit of the people of Elgin or if the city is willing to build and maintain a bath house, then the trustees are directed to turn over the estate of the property to the city of Elgin".
The city of Elgin eventually took Scanlan's offer. In 1937, a new public swimming pool was constructed at the cost of $75,000, which was in existence until 1976.
Today, The Wing Park Family Aquatic Center stands in its place, which is valued at over 5 million dollars.