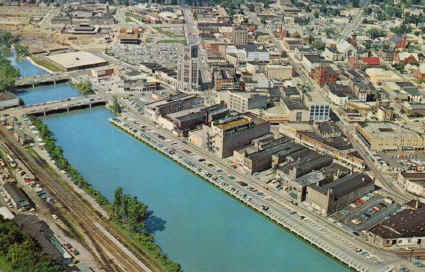 Aerial View of Elgin
This postcard, better than any others, shows the unusualness of the streets in Elgin. Perhaps it is the river that forces some of the streets to run on angles. It does make Elgin difficult to navigate.
In addition to being able to see The Elgin Tower (AKA The Home Bank Building) and The Professional Building in this card, it also shows the southern side of Joseph Spiess Department store. Realizing that the Palm Sunday tornado of 1920 would change the landscape of Elgin, Spiess went to work building his store at 38 S. Grove. It would open on February 10, 1921.
Joseph Spiess was born in an east central Illinois town of Cissna Park. He was a quiet, self-reflective young man, but one with a vision. From an early age, he chose to "watch, analyze, reflect, and learn from the mistakes of others", which he did under the tutelage of other retail vendors, such as The Ackemann Brothers and Carson Pirie Scott. By 1950, his hard work would show a dividend, by having over 17,000 customers from 40-mile radius enter his store.
In 1984, Spiess moved his store to Spring Hill Mall, leaving downtown Elgin. By 1991, they filed for bankruptcy protection. The building is currently the home of Promac, Incorporated.