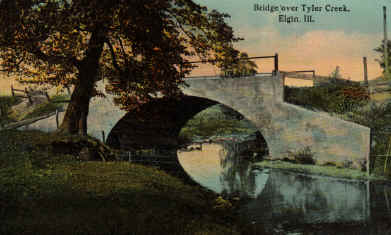 Bridge Over Tyler Creek
When George Tyler took on the piece of land on the west bank of the Fox River, his original intention was to build a sawmill. The Tylers, being one of the first Catholic families in the area, planned to use the mill to help other Catholic families build their houses, and eventually build a church in nearby Rutland Township. The river was the perfect source of power for the mill, while the creek, which ran through the property, provided an ample water supply for the horses and farm animals.
By 1925, the area was called Big Timber and served as a Boy Scout Camp. Part of the reason that the camp was so popular was the creek. It served as place for the boy scouts to swim, hunt for frogs and crabs and for other boyhood entertainment, such as walking barefoot and squishing mud to between their toes.
Long after the Tyler family disappeared, the Todd's bought part of the land and ran the farm. Daniel Todd, an Elgin industrialist and a grandson of the Todd family built a beautiful house on the property. After his death, the land would be sold to Judson College, where they would build a part of their beautiful Elgin Campus.
Over the years, a number of conservation groups would step up to maintain Tyler Creek. The Openland Project, a Chicago nonprofit group, spoke strongly in the defense of Tyler Creek in 1996, calling it "…a watershed at the crossroads", a "…high-quality stream" and "…well worthy of protection". Other groups, like "Friends of Tyler Creek" and others have also been strong supporters of this natural treasure.