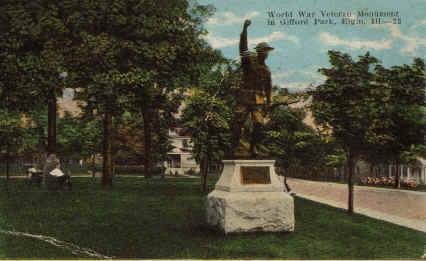 World War Veteran Monument
Davidson Park, named after Giffordís grandchildren is found at the corner of Villa and Prairie Street. It was here that Mrs. Clayton Evelien chose to honor the soldiers of the First World War, by having a Doughboy monument built in the park. Her intention was to raise small contributions of no less than five dollars from each contributor. Over 7,500 residents donated over $2,100, more than enough to build the monument that still stands today. The balance of the donations was used to build historic monuments in Lordís Park, Giffordís Park and Wing Park.

Editors note: In the rush to get this post card printed, the company no doubt made another clerical error. This statue is not in Gifford Park, but in Davidson Park, about two blocks away.