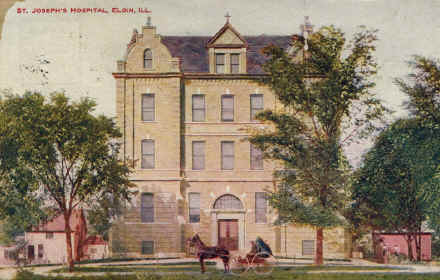 St. Joseph Hospital
On February 24, 1902, under orders from Archbishop Feehan, The Franciscan Sisters of the Sacred Heart opened St. Joseph Hospital. The original location was a house at the corner of Jefferson and Prospect that was converted for the care of the sick. Within the first year, 125 patients were admitted to the hospital, with one fifth being charity cases.
By 1904, the building would be replaced with the one shown above. It was brick and contained 25 beds. The hospital would be expanded upon in 1914, and again in 1926. A Nurse's training program would be conducted from 1919 to 1948.
In November of 1997, the hospital would receive a new name: Provena St. Joseph Hospital, now being part of a large Catholic corporation. Today, they treat over 8,000 outpatients a year, conduct over 12,000 off-site visits and deliver over 26,000 babies. Interestingly enough, when each baby is born, a portion of Brahmís Lullaby is played over the public address system.
Would you like to see some vintage photos of St. Joseph? Thanks to Suzy Torres, several are displayed on an adjoining page. CLICK HERE to view them.