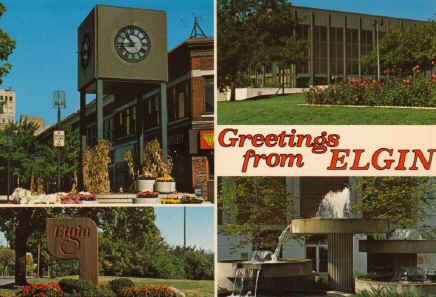 Greetings from Elgin (1975)
Most postcards on this site are between 50 and 100 years old. This one, dating back to 1975 is a mere infant by comparison.
Many cities in the Midwest experimented with outdoor shopping malls in the 1970's. For a period of time, Chicago's State Street was closed off to cars and buses and only permitted foot traffic. Neighboring Oak Park tried the same concept with Lake Street, the busiest street in the town. Elgin attempted the same sort of treatment for Grove Street in the heart of the city. Like its two comrades, the outdoor mall was reversed when it was determined that it detracted more business than it attracted.
The concept of the fountain dates back to Elgin's earliest days, when merchants and patrons came to the market on horses. While the merchants were conducting their business, the horses were left to drink at the fountain. Placing a clock in the middle of town seemed like a natural bet, seeing as how Elgin was, at one time, the largest manufacturer of watches in the country and maybe the world. In 1967, the clock tower of The Elgin National Watch Factory was demolished, leaving people with a longing for the past. By 1994, these accouchements were removed.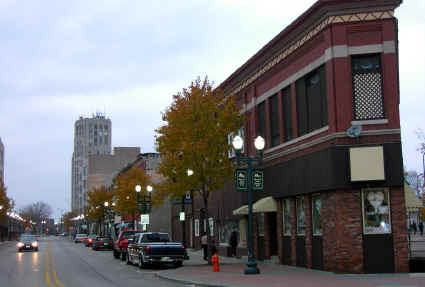 Elgin Today
The clock in the upper left hand corner of the postcard above sat roughly next to the large red brick building on the right hand side of this frame.