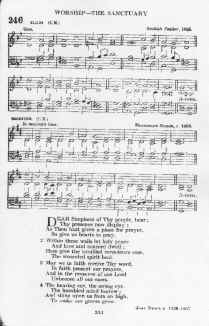 Worship-The Sanctuary
Below are the words to the Scottish Psalter (Psalm)
that inspired James Gifford to name his town "Elgin".
Dear Sheperd of Thy people, hear;
Thy presence now display;
As Thou hast given a place for prayer,
So give us hearts to pray.
2 Within these walls let holy peace
And love and concord dwell;
Here give the troubled conscience ease,
The wounded spirit heal.
3 May we in faith receive Thy words,
In faith present our prayers,
And in the presence of our Lord
Unbosom all our cares.
4 The hearing ear, the seeing eye,
The humbled mind bestow;
And shine upon us from on high,
To make our graces grow.
- Thanks to Elizabeth Marston,
The Elgin Area Historic Society