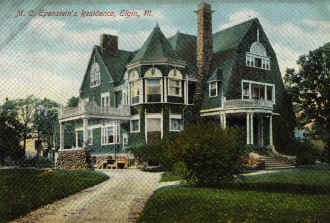 M. C. Eppenstein's Residence
The Illinois Watch Case Company was owned by Max C. Eppenstein. It was an outgrowth of his Chicago wholesale jewelry firm. Wishing to change the name of his company to "The Elgin Watch Case Company", a bitter legal battle ensued between Eppenstein and The Elgin National Watch Company. Eventually, The United States Supreme Court ruled that "Elgin" was a geographic location and the name could not be trademarked.
Within its first year in business, Eppenstein and his new venture would employ about 250 workers and would produce over 900 cases daily.
Eppenstein's home was erected in the late 1890's and stood at 230 State Street. The third floor windows had an excellent view of the east side of Elgin. The house was damaged in a fire in November of 1960 and was demolished. Ed. Note: This postcard, published by The Suhling and Koehn Company, spelled Mr. Eppenstein's last name wrong, omitting the second P in his name.