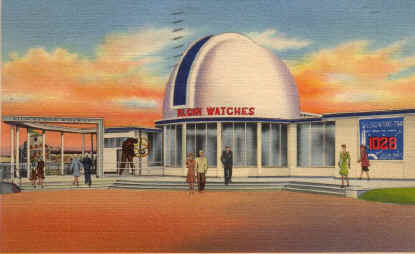 Elgin Watch Building
New York World's Fair (1939)
In 1939, the remnants of The Great Depression still lingered. Many felt that the economy needed a kick-start. That kick-start would be a world's fair in New York. Engineer, Joseph Shagden and Edward F. Roosevelt, a distant relative of the president, pitched the idea in 1935.
Between April 30, 1939 and October 27, 1940, over 48 million people would visit exhibits created by RCA, American Telephone and Telegraph and General Electric.
Of all of the watch companies in business, Elgin was the only company that celestially calibrated their movements. Because of that, the slogan "Timed to the Stars" was featured prominently in their advertising. Eventually, the concept of star-fixed time would be utilized in other venues. The exhibit of the observatory was a replica of the actual observatory in Elgin.